Our prices
minimum price 105€
maximum price 160€
incl. BozenCard >> BozenCard?
The prices are for 2 people per night, including bed sheets, towels, final cleaning, the BozenCard and a guided farm tour to give you some insight into our family farm.
For every adult person, we charge an additional fee of 13,00 € per night.
In addition to the indicated price, the local tax is 1,15 € per person and night. Children under 14 years are free of charge.
Important information:
– Our farm is open all year round
– Every hour there is a bus connection to the capital city Bolzano, which can be used for free with the BozenCard. The bus stop is only 50 m next to our farm.
– We offer you fresh, seasonal fruit and vegetables from our farm garden from May – September.
– We recommend you 'Red Rooster cancellation protection'.
– The holiday apartments are ready for occupancy at 14:00 pm on the arrival day.
– In order to arrange everything for our new guests, we kindly ask you to leave the apartments on your day of departure until 10:00 am.
– The inside of the apartments is a non-smoking area. Smoking on the balcony or the terrace is, of course, no problem.
– Please, pay in cash.
– The use of all of our facilities, as well as experiencing our farm is at your own risk.
Trip cancellation:
It is not a very pleasant situation for you or for us if you cannot go on your journey for any reason, or have to depart earlier than planned, and don't have an appropriate insurance.
Look ahead and prevent this:
The Italian cancellation terms, according to art. 1382 in the civil code:
– You can cancel your trip up to 3 months before arrival at no charge.
– From 3 months to 4 weeks before arrival, we charge 3 days of the booked travel price.
– Within the last 4 weeks before your arrival, the cancellation charge is 70% of your booked travel price.
– In case of belated arrival or early departure, we charge 100% of the travel price of the booked, but not used days. Already paid booking confirmation are included in the cancellation fee.
As a special service, we offer you the 'Red Rooster cancellation protection'. For more information, klick HERE.
The BozenCard
holiday, joy, freedom
BozenCard:
With the BozenCard your holiday in S. Genesio will be enriched. BozenCard is your personal entry card into a world full of attractions and benefits….and it's  included in the room price. Explore S. Genesio, Bolzano and the whole South Tyrol with new eyes and  new positive feeling!!…Travel for free with the BoznerCard!
The most important services included with the BozenCard:
To be free…
free use of the public transports in South Tyrol, included the cable car of S. Genesioand the Tschögglbergbus from S. Genesio to Avelengo/Merano 2000. And furthermore:
all regional trains in South Tyrol till Trento (indicated with R in the timetable)
all urban and extra-urban busses in South Tyrol
the cable cars of Renon, Maranza, S. Genesio, Meltina and Verano
the little train of Renon and the funicular railway of Mendola
a way to go and come back by the PostAuto Schweiz from Malles to Zernez, free visit of over 80 museums, castles and collections in South Tyrol (Ötzimuseum, Messner Mountain Museum, Roncolo Castle)
free entry into over 80 museums (e.g. Ötzimuseeum, Messen Mountain Museum, …)
free entry to the pool in S. Genesio
free participation to the guidedcity tours of Bolzano
do everything free, nothing by force
The BozenCard: free and priceless!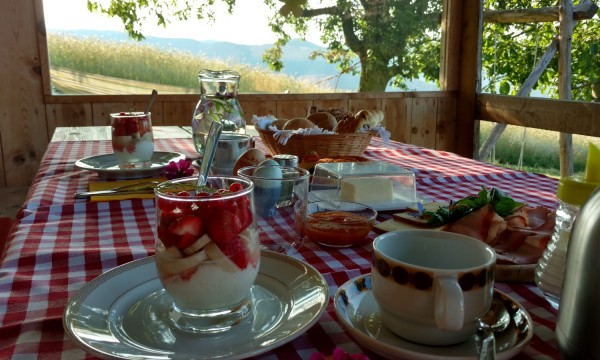 Delicious farmer's breakfast
We offer a nutritious and rich breakfast with products from our farm in our vintage farmhouse parlour on demand.
The following products are from our own farm: whole milk, yoghurt, eggs, bread, herbal tea, fruit spread, juices, dried fruit and pastries.
Additionally, we serve you other South Tyrolean delicacies: bacon, sausage, cheese, honey, butter, fruits, vegetables, hot chocolate, coffee, salt and sugar.
Let us surprise you!