Our prices
minimum price 89€
maximum price 110€
incl. BozenCard >> What ist the BozenCard?
The prices are for 2 people per night, including bed sheets, towels, final cleaning, the BozenCard and a guided farm tour to give you some insight into our family farm.
For every adult person, we charge an additional fee of 13,00 € per night.
In addition to the indicated price, the local tax is 0,85 € per person and night. Children under 14 years are free of charge.
Important information:
– Our farm is open all year round
– Every hour there is a bus connection to the capital city Bolzano, which can be used for free with the BozenCard. The bus stop is only 50 m next to our farm.
– We offer you fresh, seasonal fruit and vegetables from our farm garden from May – September.
– We recommend you 'Red Rooster cancellation protection'.
– The holiday apartments are ready for occupancy at 14:00 pm on the arrival day.
– In order to arrange everything for our new guests, we kindly ask you to leave the apartments on your day of departure until 10:00 am.
– The inside of the apartments is a non-smoking area. Smoking on the balcony or the terrace is, of course, no problem.
– Please, pay in cash.
– The use of all of our facilities, as well as experiencing our farm is at your own risk.
Trip cancellation:
It is not a very pleasant situation for you or for us if you cannot go on your journey for any reason, or have to depart earlier than planned, and don't have an appropriate insurance.
Look ahead and prevent this:
The Italian cancellation terms, according to art. 1382 in the civil code:
– You can cancel your trip up to 3 months before arrival at no charge.
– From 3 months to 4 weeks before arrival, we charge 3 days of the booked travel price.
– Within the last 4 weeks before your arrival, the cancellation charge is 70% of your booked travel price.
– In case of belated arrival or early departure, we charge 100% of the travel price of the booked, but not used days. Already paid booking confirmation are included in the cancellation fee.
As a special service, we offer you the 'Red Rooster cancellation protection'. For more information, klick HERE.
Die BozenCard
...ungemein bereichernd
Mit der BozenCard wird Ihr Urlaub in Jenesien ungemein bereichert. Entdecken Sie Jenesien, Bozen und ganz Südtirol mit anderen Augen und einem unglaublich gutem Gefühl!! freie Fahrt mit der BozenCard!
Die wichtigsten Leistungen der BozenCard:
frei und kostenlos alle öffentlichen Verkehrsmittel Südtirols inklusive der Seilbahn Jenesien und des Tschögglbergbusses von Jenesien nach Hafling/Meran 2000 zu nutzen, außerdem:
Alle Regionalzüge in Südtirol bis nach Trient (im Fahrplan mit R gekennzeichnet)
Alle Stadt- und Überlandbusse in Südtirol
Die Seilbahnen nach Ritten, Meransen, Jenesien, Mölten und Vöran
Die Schmalspurbahn Ritten und die Standseilbahn auf die Mendel
freier und kostenloser Eintritt in über 80 Museen (z.B.: Ötzimuseeum, Messen Mountain Museeum, …)
frei und kostenlos das Schwimmbad von Jenesien zu genießen
frei an den Stadtführungen der Stadt Bozen teilzunehmen
Die BozenCard: genießen Sie Ihren Urlaub ohne Auto
Weitere Infos unter: http://www.bolzano-bozen.it/de/bz-card-plus-inklusivleistungen.html#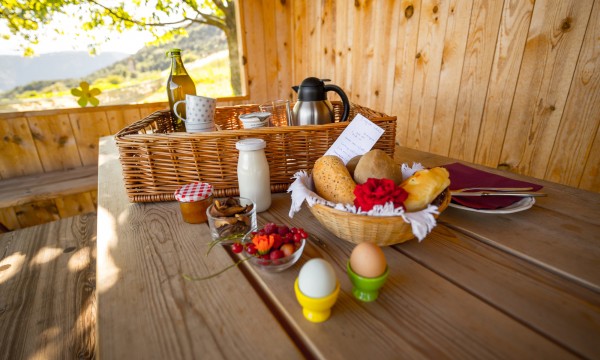 Delicious farmer's breakfast
We offer a nutritious and rich breakfast with products from our farm in our vintage farmhouse parlour on demand.
The following products are from our own farm: whole milk, yoghurt, eggs, bread, herbal tea, fruit spread, juices, dried fruit and pastries.
Additionally, we serve you other South Tyrolean delicacies: bacon, sausage, cheese, honey, butter, fruits, vegetables, hot chocolate, coffee, salt and sugar.
Let us surprise you!